Wednesday Night is Family Night!
Proverbs 22:6 says Train up a child in the way he should go, and when he is old, he will not depart from it - Wednesday at KPC has now become Family Night! We have something for all ages. Each night will start with dinner at 5:30 PM, and then we break into groups. There is Awana Bible Club for the kids and Crossfire for teens. For information
email Kim Soto at kim.soto@kpc.org.
Click the button below to register or contact Kim Soto for AWANA.
KPC Kids
Children's Ministry here at KPC is a vital part of our vision, and we welcome children from infants through 5th grade to join us on Sunday Mornings for KPC KIDS.
Our heart is to introduce and cultivate the love of Christ and compassion for others in each child with the Bible as our foundation. Children experience, grow and learn to serve alongside teachers, peers, family members, and volunteers. We use many age-appropriate activities to reach kids of all ages incorporating music, games, Bible stories, crafts, collaborative play, and student leadership.
We strive to partner with parents and volunteers to meet the needs of each child. To volunteer, please email Kim Soto at kim.soto@kpc.org.
We look forward to welcoming you and your family to KPC!
During the school year we have a MOPS (mothers of Preschoolers) group that meets on the second and fourth Friday of each month from 9:30 AM-11AM. If you are a mother of preschoolers or someone who wants to mentor our mothers with preschoolers contact Kim Soto at kim.soto@kpc.org.
Middle Ground
Middle Ground strives to help our middle schoolers become grounded in Christ by teaching them the importance of having a daily time with the Lord. We supply them with weekly take-home devotionals that we then discuss in class on Sunday mornings.
Middle Ground meets on Sunday mornings during the worship service. To learn more, contact Kim Soto.
Crossfire Student Ministries
Crossfire, KPC's Student Ministry, is for students in grades 7 – 12 who attend private school, public school or are homeschooled. Crossfire endeavors to be a place where all students are welcome, regardless of where they are on their spiritual journey with God, and are challenged to know Him more deeply through a growing relationship with Jesus Christ.
At Crossfire, we believe in cultivating a spiritually safe and vibrant atmosphere where students are inspired to seek God together, worship Him together, learn more about Him together and serve Him together by serving others. This kind of great stuff happens not only when Crossfire meets but also in small groups, at retreats, on mission trips and service projects—or while hanging out and having a blast together.
Info
Crossfire meets every Wednesday from 6:00 – 8:00 pm.
To get updates on Crossfire happenings, please do all of the following:
Get our weekly Crossfire email update every Wednesday. Email Jonathan Zook and give him the email address(es) at which you'd like to receive this weekly email update.
Like our Facebook page.
Follow us on Instagram.
Thrive Young Adult Ministry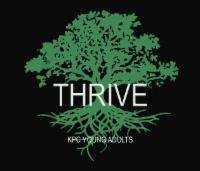 KPC's young adult community group THRIVE exists to provide opportunities for fellowship as we gather with other young adults in the area, seeking to build connections and grow our faith together. We do this through fun activities, times of worship and prayer, and community service outreach.
Contact Olivia Martin for details on our next event.
We would love to have you join us!