FAMILY NIGHT HAS ENDED FOR 2023, BUT WILL RETURN ON WEDNESDAY, JANUARY 3, 2024.
Look for updates here or email Kim Soto, Family Ministries Director, at kim.soto@kpc.org.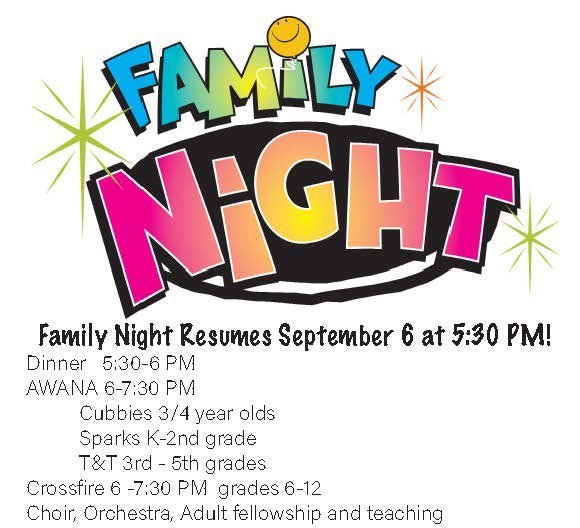 Family Night is every Wednesday beginning at 5:30 PM! Kick off family night with a meal, then after dinner we divide into several interest groups: Adult Discipleship begins at 5:45 and will be studying the book of John, Crossfire our Youth Ministry serves grades 6-12 and meets from 6-7:30 PM. AWANA students are dismissed at 6 and meet from 6-7:30 PM! AWANA is a nonprofit ministry that focuses on teaching Bible-based evangelism and discipleship to children. KPC's AWANA club reaches kids Kindergarten through 5th grade (other ages may be included depending on volunteer base and need). Dinner is $3 per person, $10 max per family.
Register below for AWANA or e-mail Kim Soto, Director of Family Ministries, for additional information.
There are things for the entire family! AWANA for kids three and up, Crossfire for the youth (grades 6-12), Choir, Orchestra, and new this year Adult Discipleship! Dinner is served at 5:30 pm and costs $3 per person/$10 for the entire family. Visit the website to register your kids or for more information!